Binance is happy to do a listing of Dogecoin; however, there is not much technical development on the side of Doge. But well, DOGE was never about technicality!
DOGE to USD Price Comparison
The Dogecoin price is currently trading at $0.003518 at 05:40 UTC time on 10th July 2019. The other calculated factors are:
Return of Investment: 535.60%
24-Hour Volume: 43,695,478 USD
Market Cap: 427,164,769 USD
Total supply/Circulating Supply: 120,274,812,489 DOGE/ 120,274,812,489 DOGE
7 Day high/low: 0.004471 USD / 0.003130 USD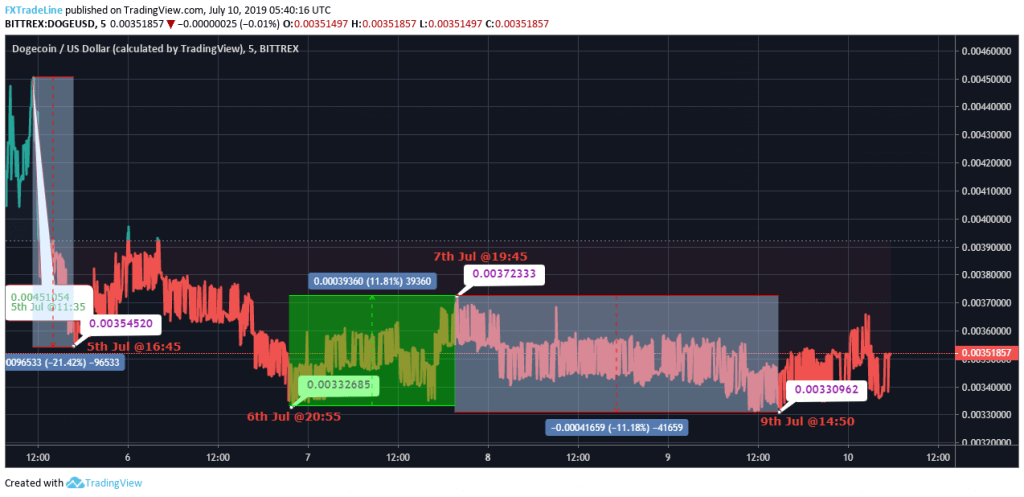 The Highest value was last seen on 5th July at 11:35 UTC trading at $0.004510, which then dropped by 21.42% in the next few hours at 16:45 UTC. The value was constantly dropping after that. Next day, 6th July at 20:55 UTC the lowest was realized, which was then increased by 11.81% on 7th July at 19:45 UTC trading at $0.0372. The value then dropped constantly with lowest (dropped by 11.18%) seen yesterday at 14:50 UTC time. The value from then is increased by 6.31% as of now.
Dogecoin Price Prediction and Conclusion
You might feel delightful that DOGE is showing price movements with a positive attribute from past one week! DOGE is definitely becoming one of the favorites, and this time, not for just the CEO but for the investors too! DOGE is hoped to surge in an upward motion for coming days.
As of now, considering the trades from the past few days, we might be able to see $0.007 trading valuation by the end of 2019.