Overview of Online Trading Platforms
Online trading is a simplified and digitized version of offline trading, which involves the buying and selling of assets but with a little difference. Instead of visiting a brokerage firm to place the 'buy' or 'sell' orders of assets, traders can simply put the order for buying and selling of assets through the various internet-based trading platforms. Online trading platforms are cheaper, faster, and much more secure than offline trading platforms. In addition to this, the investors can exercise greater control over their trade decisions due to the absence of broker intervention. Thus, online trading platforms are preferred by most investors all over the world.
What is Banxso?
Banxso is an online trading platform offering instruments, such as stocks, cryptocurrencies, commodities, indices, and forex. The platform operates with a tagline 'not your grandfather's bank', which signifies that the platform is equipped with advanced technologies that make online trading much more convenient and hassle-free. Banxso does not intervene with the trading decisions taken by the investors, it just shows them ways to maximize their returns.
Pros and Cons of Banxso
| Pros | Cons |
| --- | --- |
| Offers multiple instruments to trade | Customer support is available only for 5 days a week |
| Separate mobile application available that makes desktops redundant | |
| Customer support available via email, telephone, and live chat | |
Trading products Offered by Banxso
Forex
At Banxso, traders are prepared with all the necessary trading skills required to trade forex. Traders can readily take advantage of the liquid forex market with the help of the various trading strategies available at Banxso X. In addition to this, Banxso also provides Forex options trading, a very rare feature that is not available on other online trading platforms, which adds a competitive advantage for Banxso users.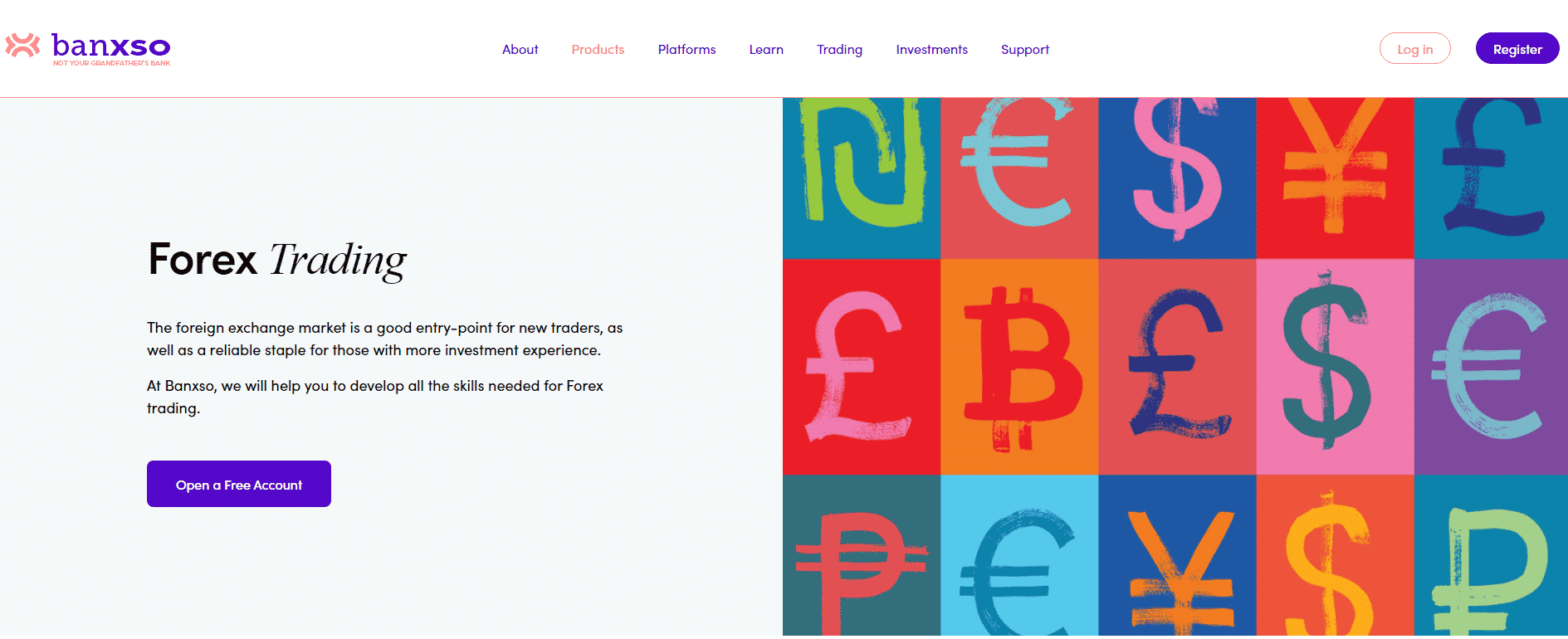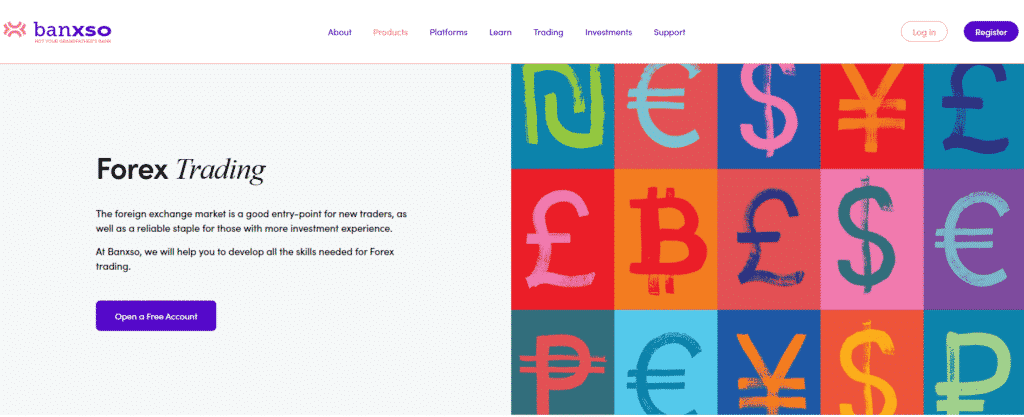 With the help of options trading, a trader can easily make predictions in the foreign currency market. With a very meager trading fee, traders can buy their preferred currency pair at a fixed exchange rate at any point of time in the future. In line with this, traders can cancel the purchase at any time without losing any money except for the small fee paid, if they do not feel that the time is right.
With a rich list of currency pairs, cutting-edge technology, powerful trading analytics, and risk management tools, Banxso offers everything that is required for a successful forex trading experience. It turns a relatively low investment into significant returns.
Stocks
Stocks trading is yet another lucrative trading option that the Banxso users can reap the benefits from. Every rise and fall in the stock prices has something to offer to the potential traders. With the rise in the stock prices, traders earn huge profits but at the same time, if they miss out on the price fall they may incur huge losses. Therefore, traders should always be aware of the global markets and always keep updated information about the rise or fall in stocks prices, which Banxso provides to its clients.
The platform always keeps updated market information on its website that are hand-picked by market experts and investors, and any interested traders visiting the website will get hold of this useful market information. It tells traders when to make the right move in the right direction so that they can conveniently analyze the financial market and make future price predictions.
Indices
Banxso promises to help potential traders build a diversified portfolio. So, instead of focusing on individual stocks, the platform urges its customers to focus on a variety of indices available for trading on its platform. With indices trading, traders can enter the various regional markets, which are not possible with individual stocks trading. There is an extensive list of indices available for trading at the Banxso platform. Most investors, however, prefer long-term indices trading to make maximum profits. Indices can yield heavy returns in a short term as it is highly lucrative in nature.
Commodities
Banxso offers customized trading strategies, updated market information, trading tools, and educational resources to help traders trade commodities with confidence. The various commodities available for trading at Banxso include energy commodities, soft commodities, and precious metals. Traders can choose any of these commodities at Banxso depending on their trading preferences.
Energy commodities include crude oil, gasoline, natural gas, wind power, and electricity. Energy commodities can be further subdivided into 2 categories depending on their abundance in nature; non-renewable commodities, such as coal, oil, and gas, and renewable commodities, such as biomass, solar, wind, and geothermal power. Trading energy CFDs is also one of the lucrative trading options available to Banxso users.
Soft commodities include agricultural goods, like coffee, cocoa, soybeans, sugar, wheat, rice, corn, and cotton, among others, and the market is slightly more stable than the Energy commodities market. Unlike energy commodities that depend on external factors like the political climate prevailing in the market, the soft commodities market depends on the weather and climate changes that determine the production rates of those commodities. Banxso provides all the relevant information to traders so that they can trade confidently.


Precious metals at Banxso include gold, platinum, silver, and copper. The prices of these precious metals are highly volatile and susceptible to huge risks. However, with the trading strategies of Banxso, traders can earn huge returns even from these highly volatile assets.
It is important to know that commodities trading is associated with high risks, but the timely purchase and sale of commodities can yield big returns to investors. Traders should also monitor the political environment before they indulge in commodities trading.
Crypto
Banxso has created one of the most amazing cryptocurrency trading systems on its platforms that attract hundreds of investors from all over the world, despite the highly volatile nature of crypto coins and the high risks involved in trading them.
Trading Platforms offered by Banxso
Banxso offers the following trading platforms:
MetaTrader 5
The Banxso trading platform is extremely tech-savvy and the MT5 platform with its rich cutting-edge techniques takes the user experience to the next level. The MetaTrader5 platform is technologically equipped and enables traders to enjoy flexible trade operations. It offers a multi-asset trading platform covering both the centralized as well as the non-centralized financial markets, including forex, stocks, and futures. The MT5 platform helps traders think beyond CFD FX (Forex) instruments with its rich array of trading tools, multi-currency tester, trade alerts, and much more.
In terms of speed of trade execution, the MT5 platform is much faster than its predecessor, the MT4 platform. The 64-bit multi-threaded online trading platform offers a deeper analysis of market movements, allowing investors to view where their offers and bids are priced across the financial markets.
Mobile
The Banxso trading platform is compatible with both Android and IOS devices, allowing the traders to trade without a desktop. They can place orders, buy, sell or exchange various tradable assets even while on the move. The mobile application features an extensive list of trading functions, analytical resources, technical indicators, and a variety of graphical objects, which help traders to monitor the status of their accounts and also view their trading history.
Banxso Customer Support
Banxso generally provide responsive customer support to traders via email and telephone. There is a separate section on the official website of the platform dedicated exclusively to providing timely customer service facilities to traders. Registered traders can email their queries at the specific email address mentioned on the official website, along with their full name and address. The customer support team assures the investors to provide solutions within 24 hours.
Apart from this, traders can also make a direct call to the customer support executives to discuss the various problems faced by them. In addition, there is also a live chat option available for traders 24/5, where they can directly have a live chat with the customer support executives.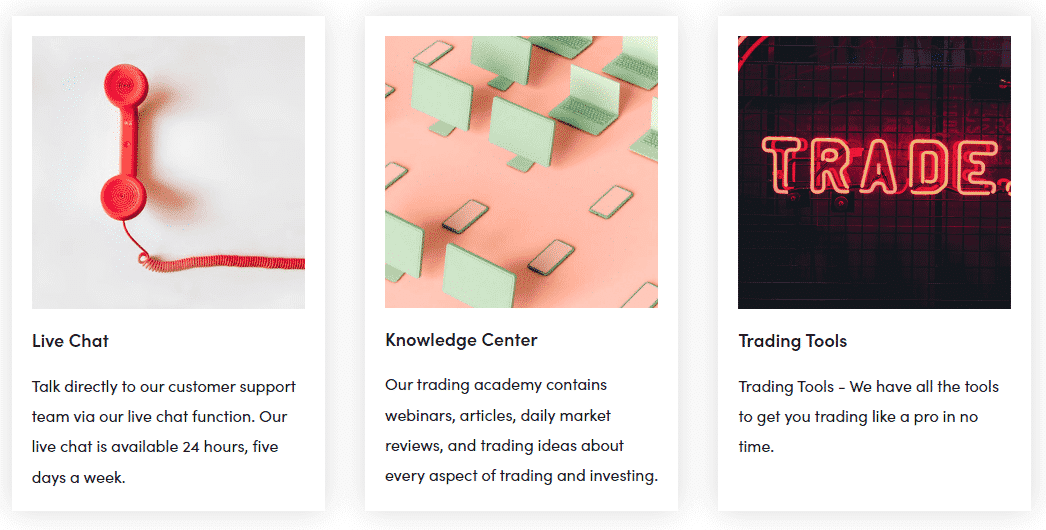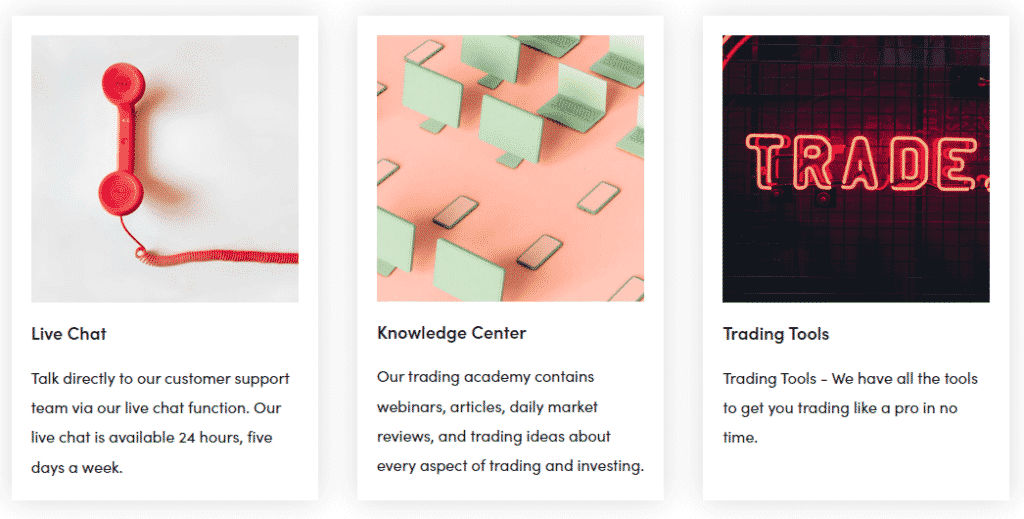 Banxso Education
Banxso provides one of the best educational resources to traders. The Banxso website is intelligently designed with a separate section meant exclusively for imparting trade education to investors. On the top of the official homepage, there is a section called 'Learn,' clicking on which will take the traders to a separate section where they can get all the details about online courses, personal coaching, trading ideas, and webinars. Traders can take help from these educational resources at their convenience and can apply them to navigate through the financial markets conveniently.
Banxso imparts trade education to investors in the following ways:
Online Courses
Online courses do not have any time bounds, which is why the traders can take the classes at their convenient timings. Keeping the traders' busy schedules in mind, Banxso keeps posting the study materials online and traders can view the posted materials whenever they are free. The online course materials cover all the important topics, insightful articles, and trading strategies recommended by the platform's trade experts and successful investors. All registered traders on the Banxso platform can enjoy full access to the online educational materials as soon as they sign in to the platform.
Personal Coaching
Banxso also provides its traders opportunities to have a face-to-face discussion with the platform's trade experts on any trade-related topics. There are live streaming services available on the website where traders can reap the benefits of personal coaching from industry experts. A mentor's influence on the learning process and the professional growth of the students is not ignored, which is why Banxso assures that trader gets all the benefits.
The personal coaches help the traders to stay fully focused on their trading objectives by analyzing their trades and explaining to them where they went wrong in their previous attempts that resulted in losses. Traders can get all their queries resolved immediately and can also get practical trading tips on how to make a profit easily from the experts.


Trade Analysis
Many factors need to be considered for a successful trading experience. If these factors are taken care of by an expert online trading platform on behalf of the traders, they (the traders) can trade freely and conveniently. Banxso help trades to make the correct trade analyses of various assets by forecasting their future trajectories, both short term and long-term movements. Apart from these benefits, Banxso also regularly publishes daily market reports on various political, socio-economic, and environmental news that can have a huge impact on the stock exchanges. All these keep the traders prepared for any situation, like the sudden market change or sudden fluctuations of the asset prices.
Interactive Discussions
Banxso provides interactive discussions on various topics where attendees can exchange their individual opinions with each other. Sharing one another's views helps traders in gaining deeper insights into the trading strategies and how they can maneuver the financial markets. A copy of the videos, voice notes, and presentations are also uploaded on the official homepage of the platform for future references. Registered traders can also keep the relevant recorded videos stored on their devices.
Is Banxso Legit or Not?
There is no information on the official website of the platform as to its legality and efficacy. Registration details are also not profound. However, looking at the website interface the platform appears to be legit.
Why Trade with Banxso?
Despite the questionable legal status of the Banxso platform, traders from all over the world are keen to invest in the financial markets via the Banxso online trading platform, owing to the plethora of advantages that the platform provides the users:
Versatility
Banxso puts the choice of products to the traders; traders can choose any of the tradable instruments of their choice and start conducting trading operations according to their strategies. Banxso as an online trading platform, which is why it never interferes with the customer's choice of products. Instead, they help them in analyzing the financial market more methodically to ensure maximum returns.
Keeps Low-profit Margins
Banxso keeps their trading fees much lower in comparison to most other online trading platforms. This particular advantageh lets Banxso users maximize their returns and also simultaneously avail themselves of the services offered by Banxso. The trading fees are always at par with the cost of the products traded via Banxso and never more than that.
Faster Execution of Trades
Banxso offers generous trading conditions, such as the minimum intervention from the online broker, competitive spreads, zero-commission trades, along with ultra-fast execution of trades. All these features together make Banxso an excellent online trading platform.
Technologically Advanced Platform
Banxso always walks together with technological innovations. The platform hosts technologically advanced features that give users the liberty to trade on their own terms without any intervention from the broker. Every trader irrespective of his trading experiences and objectives can find a solution while trading with Banxso.
Mobile Compatibility
Banxso is compatible with mobile devices and can be accessed from mobile phones as well. The traders are not required to sit before the desktop computers to place a trade via Banxso. All they need is a robust internet connection and a smartphone and they can stay connected with the market from anywhere in the world.
Conclusion
The online trading platforms offer more advantages than offline brokers. The less intervention from the brokers have enabled the investors to have greater control over their trade decisions. Though there are brokerage fees charged by online trading platforms, it is always lower than what a traditional offline broker would charge from a trader. Banxso as one of the leading online trading platforms offers all these benefits to its registered users where they can always be aware of their real-time gains or losses as soon as they log into the platform's interface.
FAQs
Where is Banxso Registered?
No details as to the platform's registration are available on the company's website.
What Are the Various Trading Platforms Offered by Banxso?
Banxso provides MetaTrader5 and a mobile trading platform.
Does Banxso Have a Proper Customer Support Section?
Yes, Banxso offers responsive customer support services via email, live chat, and telephone.