eToro is a fast-growing social broker. Since its creation, eToro has become a pioneering social trading platform to trade all the major financial markets like forex, cryptocurrencies, indices, and stocks. The platform was among the first ones to launch the practice of social trading, sharing knowledge of trading with fxsignals and giving the traders the abilities to follow other successful traders. Social trading needs depth of traders, and eToro has a huge wealth of knowledge and social interaction facility with its 4.5 million traders. Fast to adapt traders demands, eToro recently added Cryptocurrency giving access to Ethereum, Bitcoin and some other cryptos. This has resulted in the fast expansion of this platform.
Regulations
When it comes to online trading platforms, it is important for a broker to be regulated. However, you can find many unregulated and unlicensed broker these days. But this is not the case with eToro. eToro is a regulated online trading platform by the Financial Conduct Authority and Cyprus Security and Exchange Commission. So, users can rest assured knowing that eToro is adequately regulated.
Trading Platform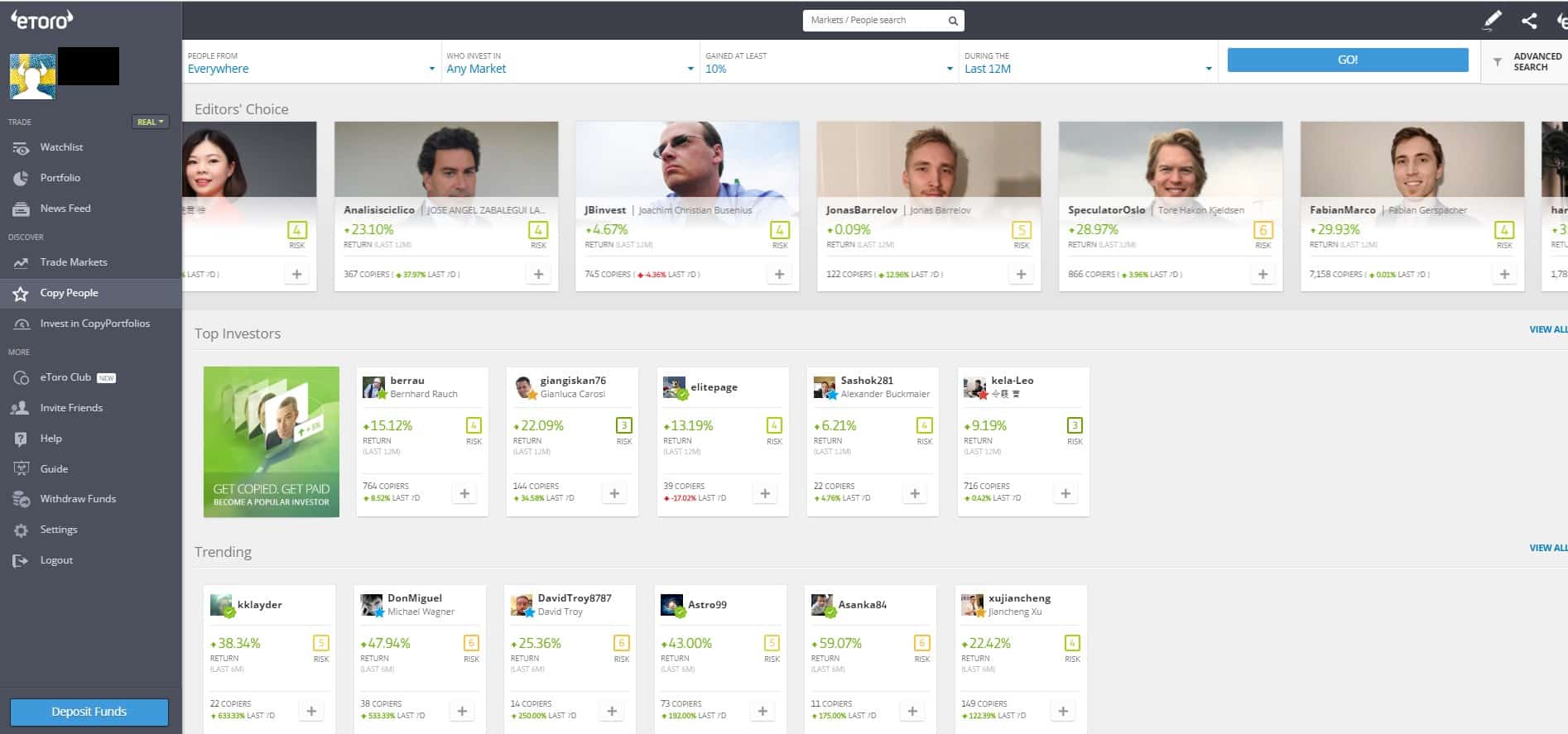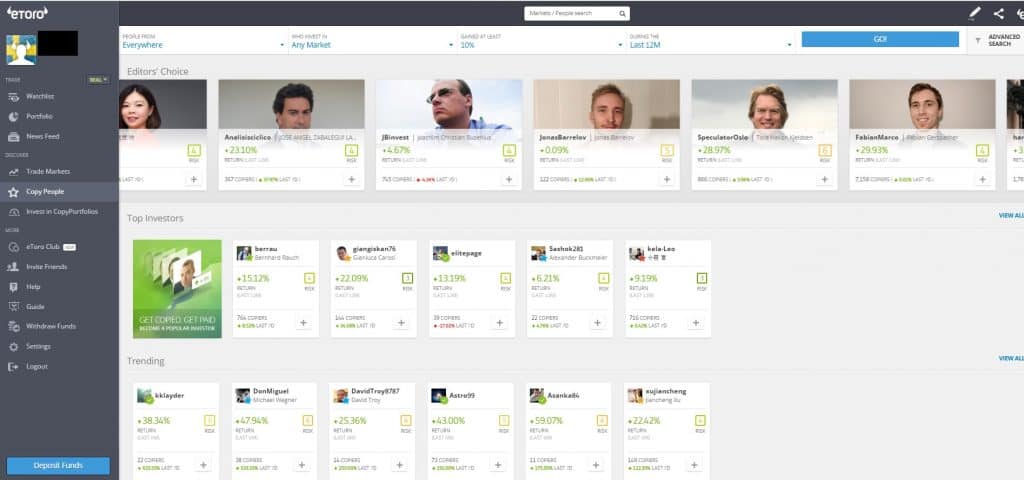 The trading window of eToro is designed for ease of use and simplicity. Users can try their hand quickly with eToro's demo account before trading using real money. The integrated platform of eToro offers two functions. One is retail trading, and another is copy/social trading. Retail trading is standard trading. eToro's Social and Copy trading feature makes it stand out from its competitors.
Assets Choice
At eToro, the choice of the assets is quite good. You will get more than 250 stocks, 10 indices, more than 30 currency pairs, and over 15 cryptos to trade on eToro. The list will probably expand in the near future.
Deposit and Withdrawal Options
To deposit money on eToro, you have many different options, including credit/ debit card, PayPal, UnionPay, WebMoney, Skrill, Yandex, Neteller, and wire bank transfer. This is a minimum withdrawal limit of $50 which will usually take 3 days. eToro has a withdrawal fee with every withdrawal of $25, which is higher than most online trading platforms. Another thing to consider is that foreign currency conversation has a charge ranging from around 50 through to 250 pips, which is quite high for the traders.
Fees
This platform makes a very small charge for the leveraged positions that are held overnight, which is the standardized practice for the CFD brokers. The larger is the trade; the more will be the fees. The primary way of income of eToro is the spreads that it takes on every trading transaction. They are among the industry's highest.
Education
eToro has a wonderful Educational Section known as Training Academy. It has three main sections, including live webinars, training videos, and trading e-course. At present, there are around 7 live webinars. They also have trading videos, which are created to tell users about how to use this platform and their features. Lastly, the platform has a free trading e-course available only to the registered members. The course covers topics like advanced and basic technical analysis, trading psychology, market analysis, and effective strategies. Other than the trading academy, eToro has an active blog as well which covers an extensive variety of topics related to crypto news, market analysis, top investor spotlights, etc.
Mobile App
eToro has a free mobile app, where the users' experience is fully optimized. The app is available both for Android and iOS. The viewing area is large, and searches are clear. The full variety of assets present on the website of eToro are also available on the mobile application. You can see a complete trading history and live prices on the app. The trading platform is created with a goal to make online trading simpler, and their mobile application complements this goal. With speed being important for traders, the routine improvements are an excellent strength.
Web Trading Platform
The web trading platform of eToro is easy to use and nice looking. With great functions and clean design, eToro did an excellent work of combing great designing with functionality. Though the watchlist is simple to configure, the platform is hard to customize. With eToro, you can "limit," "market" and "Stop-loss" the orders. Another great feature of eToro is that you can set up leverage size while opening the positions.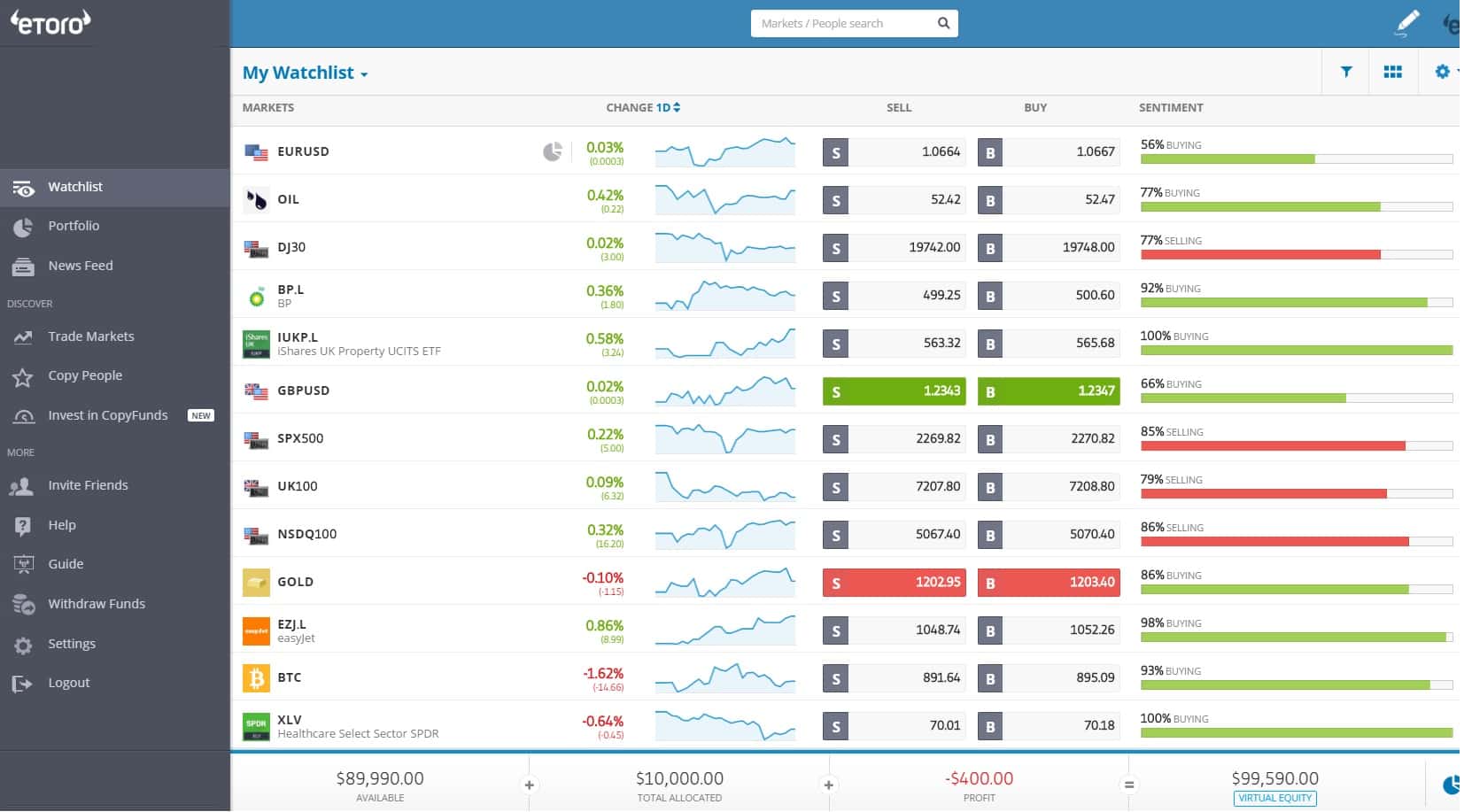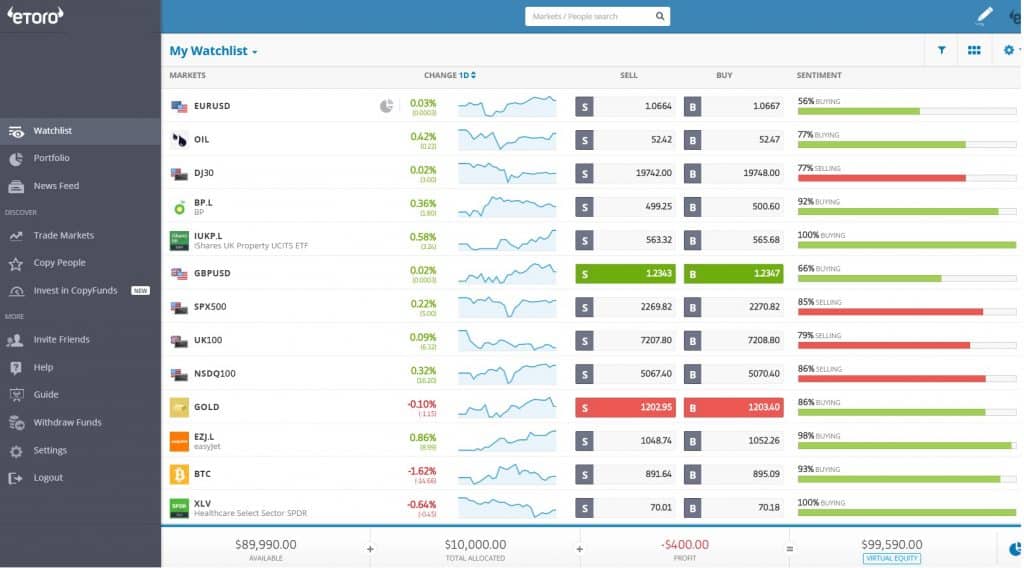 Conclusion
eToro is a good option for you if you are a newbie and want some social trading support. Account opening with eToro is quite simple, seamless, and fast. eToro also has zero commission stocks trading in Europe. With an intuitive and responsive interface, eToro is a joy to use. But a big drawback of eToro trading platform is that the fees for withdrawal and spreads are high. So, if you are looking for social/copy trading, eToro may be the best option for you.