Let us evaluate how the coin has performed for the past 5 days. Since 4-July-19, EOS coin price began to fall and fell as low as $5.68. The movement of the coin has been unstable with several steep rises and falls observed. EOS had managed to gain some momentum on 6-July-19 however, it could not survive the uptrend, and again prices began to fall rapidly. After the recovery from 7th July's fall wherein price was $5.77, the coin managed to reach a new high of $6.05 at around 17:45 UTC. Since the said date, the performance of the coin seems not up to its optimum utilization and is reflecting volatility.
Let us have a look at the EOS to USD price comparison: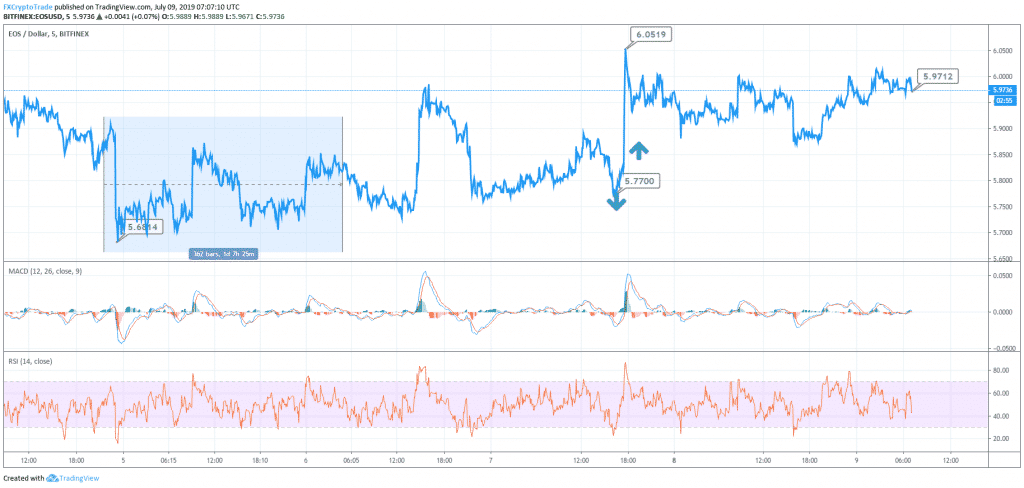 Current Data of EOS:
As per 6:34 UTC today, Market Cap of the EOS was 5,542,209,007 USD.
Price of the coin is $5.97 as per 07:20 UTC.
24-hour volume is $2,330,242,958
922,454,871 EOS coins are at present in circulation.
The coin offers an ROI of more than 483%.
EOS Price Prediction:
If we compare the price of EOS since 7-July-19 wherein price was $6.05 as per 17:55 UTC and today, the present trend of the coin is bearish by a meagre 1%. We anticipate that the prices of the coin will continue to fall marginally and will reach $5.95 by the end of the day tomorrow. The coin will manage to come back in the game and show signs of stability only after a period of 1 month or so, and prices can reach $6.01.
Conclusion:
As per EOS latest trend, investors should wait for at least a few more weeks' time till the coin retains back its stand and accordingly invest your money then. RSI indicator reflects that the number of coins being sold in the digital world seems to be oversold. MACD indicator also points out that the movement of the coin may continue to remain bearish for a few more weeks to come. If the price of the coin continues to fall marginally, the next support levels, i.e. S1, S2, and S3, may be seen at $5.86, $5.75 and $5.65 respectively.