BigOne Exchange is supporting TRC20-USDT. They officially announced their support for USDT-TRON that users will enjoy at the USDT airdrop which will start on 15th July. This might help in increasing the capitalization of TRON. Well, let's wait till 15th July, to see if the changes were any position for TRON.
The value of TRON is currently trading at $0.02910 at 05:28 UTC on 13th July 2019. The other essential factors are:
Return on Investment: 1325.45%
Total supply/Circulating Supply: 99,281,283,754 TRX/ 66,682,072,191 TRX
24 Hour Volume: 540,315,762 USD
Market Cap: 1,949,750,368 USD
7 Day high/low: 0.035523 USD / 0.027225 USD
TRX to USD Price Comparison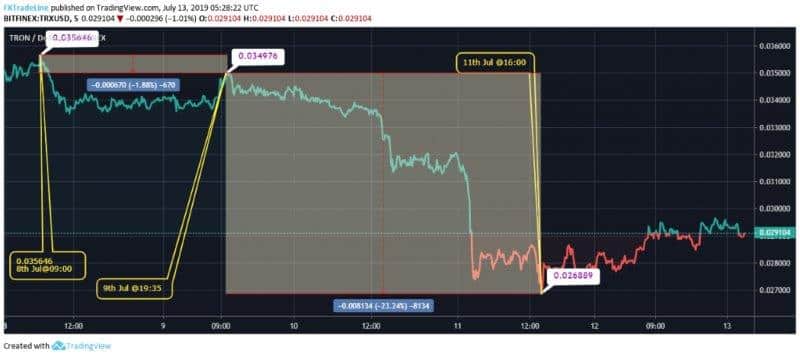 In the past 5 days, we saw a roller coaster ride on the Tron chart. On 8th July at 09:00 UTC, the value was trading at $0.03564. The value then dropped a little by 1.88% on 9th July at 19:35 UTC trading at $0.034976. The value went further down by 23.24% on 11th July at 16:00 UTC trading at $0.02688.
The value from then is escalated by 8.2% now.
Tron Price Prediction and Conclusion
Tron might have entered the bearish zone, but we might see the surging in upward direction soon! With the new projects and announcements, Tron might surprise us all! But as of now, this might be a good time for the existing traders to watch the trend closely, and for new traders to jump in the network for profits in the future.
And by the end of 2019, we might see the upside fluctuation of TRON around $0.070.