Ethereum has also been sucked into the bear momentum as seen from the 5-Day price chart
Ethereum is one of the fundamentally strong coins on the blockchain platform. The development team has been continually working on improving its scalability feature and solving network issues. The past two days have not been good for Ethereum with its prices sliding continually. The bear sentiment has spread its wings on the coin.
Current Statistics of Ethereum
As on July 12, 2019, at 5:39:16 UTC, current statistics are as below:
The current market price of Ethereum is $270.552
Market Cap is around $28,953,873,658
24-hour volume is at $9,236,678,313
ROI is > 9000%
Circulating supply is at 106,863,539 ETH
ETH to USD Price Comparison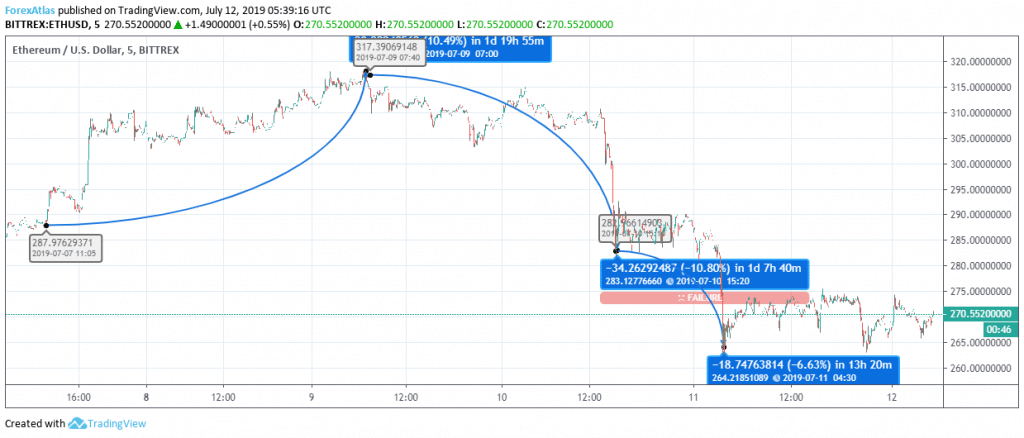 The 5-Day chart is presenting a dismal picture for Ethereum. The bears are making their presence felt by making the prices drop continually. The price was $287.976 on July 07. From here, the price showed progress when it jumped to $317.390 on July 09, within a time period of 1d 19h 55m, the upward swing was to the extent of 10.49%. Then, the bear sentiment set in and the price continued to slide down and hit $283.127 on July 10 within 1d 7h 40m to the extent of 10.80%, leaving investors unhappy. In a matter of 13h 20m on the same day, the price further went down to $264.218, the movement was 6.63%. The price has moved up slightly today at $270.552 to the extent of 2.4%. Ethereum had really gained last week, but this week the price has been on the downward momentum with the bears gaining the upper hand.
Ethereum Price Prediction
Ethereum price had shown promises of a short-term bull trend beginning of July, but this week the markets have taken a beating affecting the price of Ethereum in a negative way. The market is expected to be volatile for some time. Will Ethereum get back to its glory days no one can predict but should the market show some stability, then analysts predict the price of Ethereum to touch around $500 by the year-end.
Conclusion
This week has not been very good for Ethereum. Investors should wait and watch the developments in the price and should not take any hasty investment decisions as this could result in losses.