After a fantastic performance at the early start of July, Dogecoin is dropping again. However, the bullish fluctuations kept the investors happy with their profits. But, this might not continue for a longer time. We hope to see DOGE surging again for better visibility. After all, DOGE must work upon increasing their market ranking too.
Currently, Dogecoin price is trading at $0.003252 at 04:53 UTC on 13th July 2019. The other factors regarding DOGE are as follows:
Return on Investment: 481.25%
Total supply/Circulating Supply: 120,302,510,051 DOGE/ 120,302,510,051 DOGE
24-Hour Volume: 38,491,175 USD
Market Cap: 390,725,490 USD
7 Day high/low: 0.003740 USD / 0.003189 USD
Dogecoin to USD Price Comparison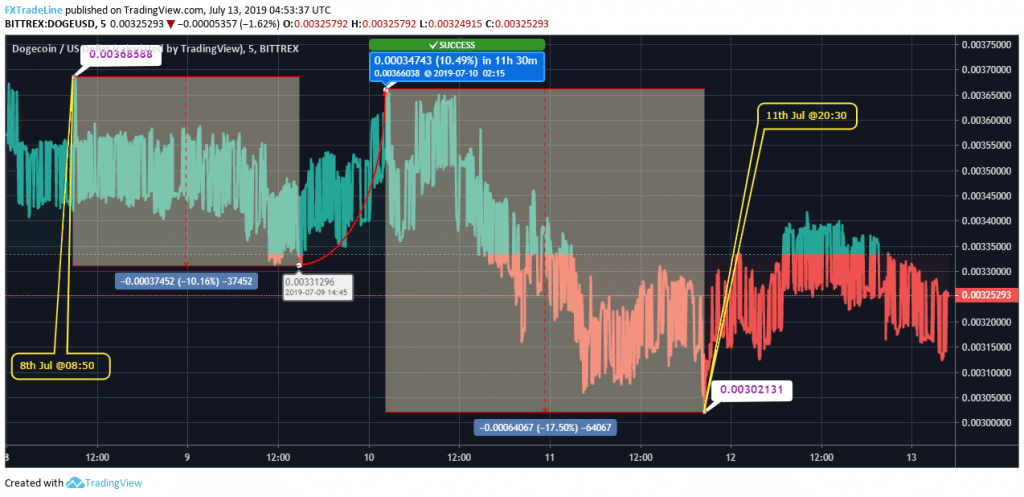 In the past 5 days, the value has seen more good progress and few dips. 0n 8th July the value was trading at $0.003685 at 08:50 UTC. The value then dropped by 10.16% on 9th July at 14:45 UTC. The value then increased by 10.49% 0n 10th July at 02:15 UTC trading at $0.003660.
The value on 11th July then dropped by 17.05% at 20:30 UTC with a trading value of $0.003021. The value now has increased by 7.6% from then.
Dogecoin Price Prediction and Conclusion
Dogecoin is in bullish nature, and we hope that the coin can run back in the marathon with strong upsurges. That will help in believing DOGE as the quality altcoin who landed on the moon and circulating around it!
By the end of 2019, we might see a DOGE upside valuation of $0.007.