Stellar has recently listed 1:1 fiat backed tokens of XLM. These tokens are offered by token.io backed up and supported by Steve Kirsch, the CEO of token.io, himself! This means that Stellar might be able to gain more visibility.
XLM to USD Price Comparison
The Stellar price is currently trading at $0.09446900 at 08:06 UTC on 11th July 2019. The other essential factors are as follows:
Return of Investment: 3270.54%
24-Hour Volume: 402,642,484 USD
Market Cap: 1,948,346,521 USD
Total supply/Circulating Supply: 105,142,706,350 XLM/ 19,425,791,389 XLM
7 Day high/low: 0.106230 USD / 0.087926 USD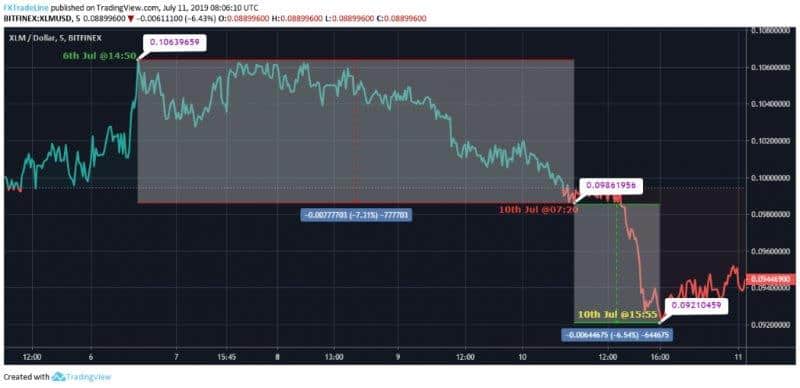 The highest in past few days was seen on 6th July at 14:50 UTC time trading at $0.1063. The value was trading above the baseline since then. But after 3 days, by 10th July at 07:20 UTC, the value dropped below the baseline decreased by 7.31% with a trading value of $0.09861. The Value same day went further down by 6.54% at 15:55 UTC trading at $0.09210. The value now has increased by 2.56% from then.
Stellar Price Prediction and Conclusion
It's been a few weeks now for XLM to trade in the downtrend. It might be time for them to surge in the upward motion. Otherwise, they might lose the ranking soon. However, Stellar coin is known to be a quality coin in the long term, but it seems that it might be losing its charm.
As per the XLM price trend right now, by 2019 end, it seems that we might see the value trading around $0.2. Otherwise, it might drown!