Overview
AnalystQ is one of the most popular and leading online trading platforms, which has a mission to provide a successful trading platform for its traders around the world. By using this trading platform, the traders can build successful trading portfolios and execute the most successful trades in commodity, cryptocurrency, currency markets, and several more. AnalystQ is operating in 170 countries, and it offers a platform where every trader has excellent resources, good trading opportunities, and several options for trading.
Vision
AnalystQ vision is to create a place where the traders from several walks of life can use the platform, professional-grade tools, knowledge, and world-class support at affordable prices. Moreover, they are there to help bridge the gap that helps the traders turn their financial dreams and goals into reality.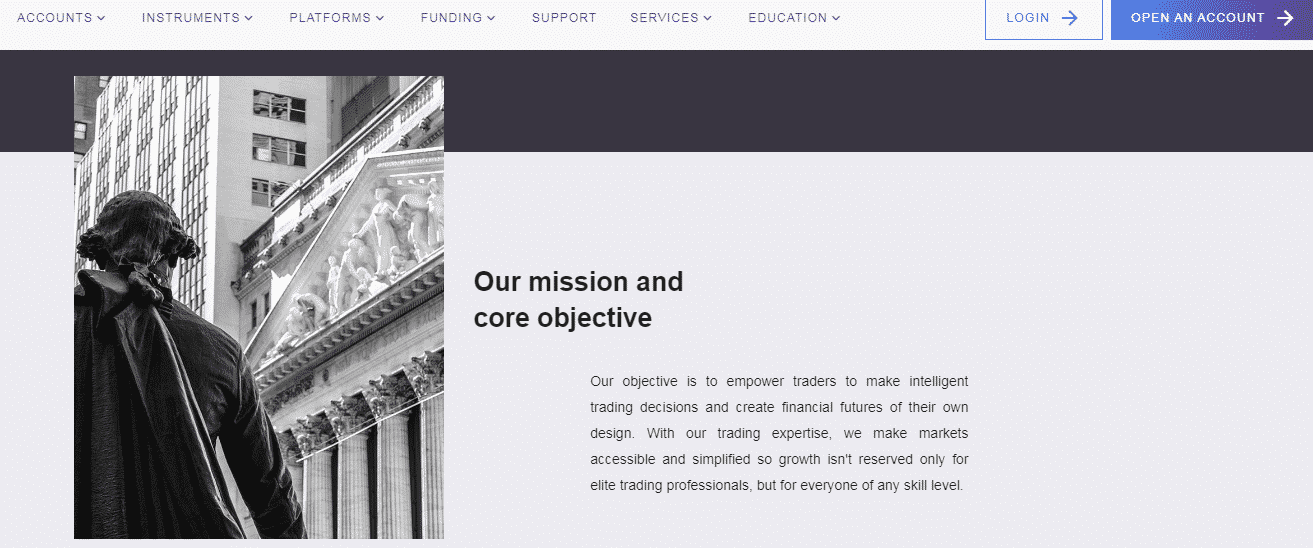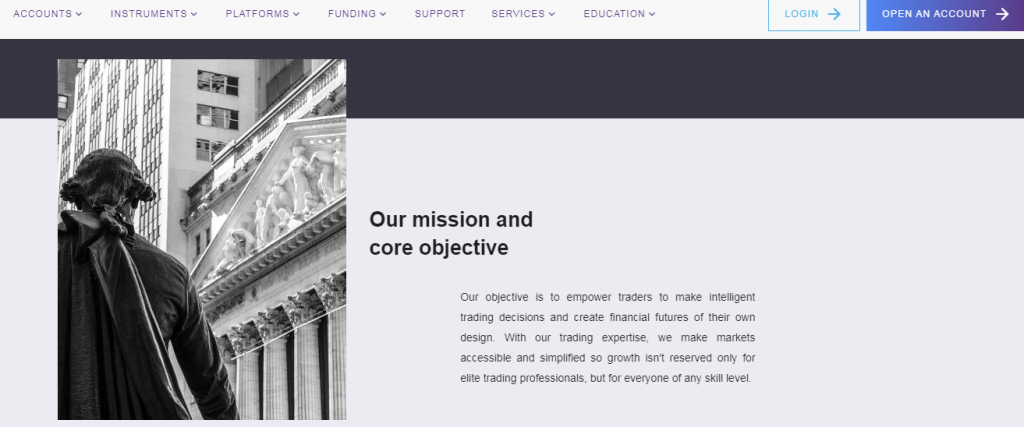 Objective
AnalystQ's objective is to empower the traders and help them to make intelligent trading decisions and help them to create financial futures in their way. By using this platform's expertise, the traders can access the market easily, so that the platform is not meant only for experienced trading professionals, but everyone at any skill level can use it.
Why should you trade with AnalystQ?
AnalystQ is considered one of the most popular online trading platforms and is considered the partner for the traders to help them learn and master the trading domain.
AnalystQ offers access to 16,000 assets starting from cryptocurrencies, currency options, commodities, and several more. Besides, this is considered the highest number of assets that are offered to the traders when compared to other online brokers currently.
This broker offers a host of educational materials, alerts, webinars, and personalized opportunities in training, where the trader can utilize these opportunities and hone their skills to become the best trader.
AnalystQ offers personalized and customized types of accounts for different types of traders, and they can choose from five types of accounts to suit their experience level and trading needs. Whether they are a beginner or an experienced trader, you can find an opportunity at your convenience. The minimum deposit to start is 500 USDT.
Advantages
Let us see few advantages offered by AnalystQ –
AnalystQ offers several advantages and provides a wide choice of accounts where every account offers a unique experience, and it can be personalized as per the trader's specifications.
Currently, there are more than 60,000 traders and 120 partner exchanges that use the AnalystQ platform to place more than 20,000 trades a day at affordable prices.
AnalystQ offers over 16,000 assets in 6 types of classes, advanced online trading tools, trading systems, and quality execution. Each of the accounts offered by this platform offers the tools to the traders where they can use it and trade efficiently comfortably as per their needs.
This platform offers access to MetaTrader 5 and provides a huge library of several educational content and webinars. It also notifies the trader of several profitable trading opportunities through the trading signals, and it also delivers leverage of up to 300:1. It provides unlimited personalized sessions, telephone support, and it also offers 24×7 access to the trading platform.
AnalystQ trading platform provides the user with a wide range of trading options with top-class customer support. Moreover, this platform offers a range of tools for risk management and also educational content for efficient and easy trading in several markets.
Trading Accounts
AnalystQ is considered as a world-class trading and investment platform for traders around the world. In this platform, the users can register, and they can open three various types of accounts. These accounts include primary account, professional account, and AutomatiQ account. Besides, it offers more than 16,000 trading assets, 6 exclusive trading classes, and a wide range of trading systems and advanced tools.
Primary Account
The trader can choose a primary trading account with AnalystQ. If you are a beginner, this trading platform helps users with more features and functionalities. Besides, the primary trading account is further classified into three types, such as Standard account, Education account, and Specialty account. The standard account offers several tradable assets, and by using the standard account, the trader can access effective trading strategies and smart tips. The minimum amount is 500 USDT, which is required to open a standard primary account.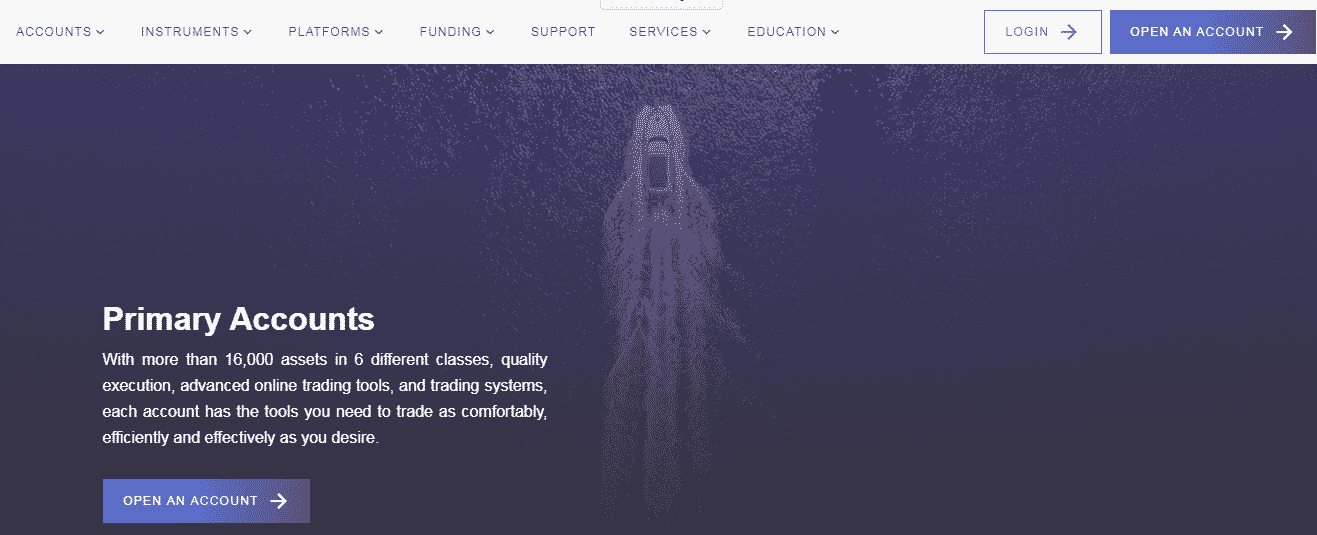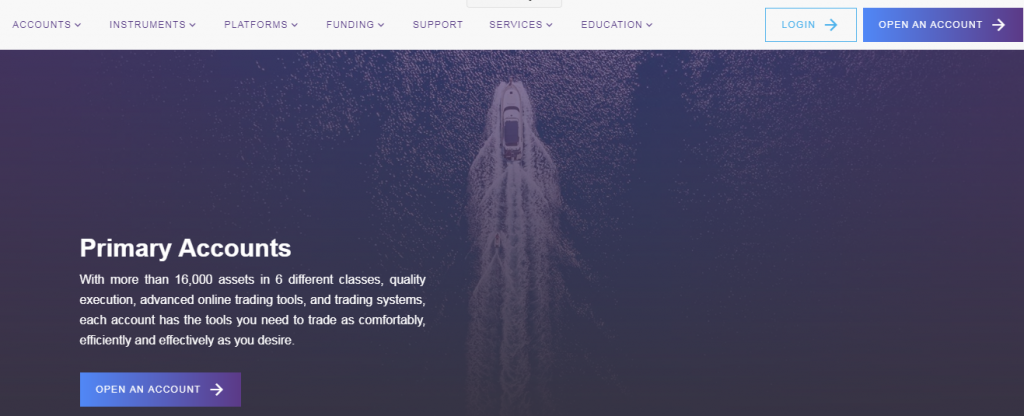 Professional Account
The professional account of AnalystQ provides intuitive trading tools and a wide choice of trading opportunities and customized training. The professional account is a perfect fit for intermediate traders. This professional account is divided into two types, which include the MarginQ account and the Platinum account. Moreover, 75,000 USDT is the minimum amount that is required to open a MarginQ professional account.
The professional account of AnalystQ provides intuitive trading tools and a wide choice of trading opportunities and customized training. The professional account is a perfect fit for intermediate traders. This professional account is divided into two types, which include the MarginQ account and the Platinum account. Moreover, 75,000 USDT is the minimum amount that is required to open a MarginQ professional account.
AutomatiQ Account
By using the AutomatiQ account, the traders can conduct the trading with maximum efficiency by using more effective automated trading strategies in the commodity and the cryptocurrency markets. Also, the traders can link their brokerage account with the AutomatiQ account to execute automated trading. The only thing that is required is to add the brokerage account with the necessary funds, select the trading strategy, and click the automatic trading button. By this, the trading robots take over, and the trader can relax and wait for the bots to trade and get profitable returns.
Creating an account with AnalystQ
Creating an account with AnalystQ is a simple and straightforward process. The platform is very easy to navigate and offers a simple user interface.
To start trading on AnalystQ, the traders should create an account by registering through their email address and also by creating a password. When this is done, a verification link is sent to the email address, and after it is verified, an account is created.
The second step involves adding the funds to their trading account. Also, one should be aware of the fact that AnalystQ accepts deposits in BTC or Bitcoins only. Besides, all payments should be made to the AnalystQ.com e-wallet address.
When the account is ready with the required funds, the traders can choose the trading strategies, analyze them whether it is a low or high-risk one, and make an informed decision.
Trading Instruments
AnalystQ offers several strategies for trading by helping the traders and investors on how to start trading in cryptocurrencies and commodities markets. Smart algorithms power AnalystQ trading software for conducting successful trades with perfect accuracy.
Energy Commodities
The traders can choose to trade in energy sources. AnalystQ offers the traders to trade in energy commodities, which includes renewable and nonrenewable sources. Renewable energy sources include geothermal, biomass, and solar energies. Further, the non-renewable sources of energy include gas, oil, and coal. Changing economic conditions, Geopolitical relationships, and the earth's changing weather patterns are included in the price of energy commodities, which creates fluctuations and, in turn, creates a good opportunity for trading.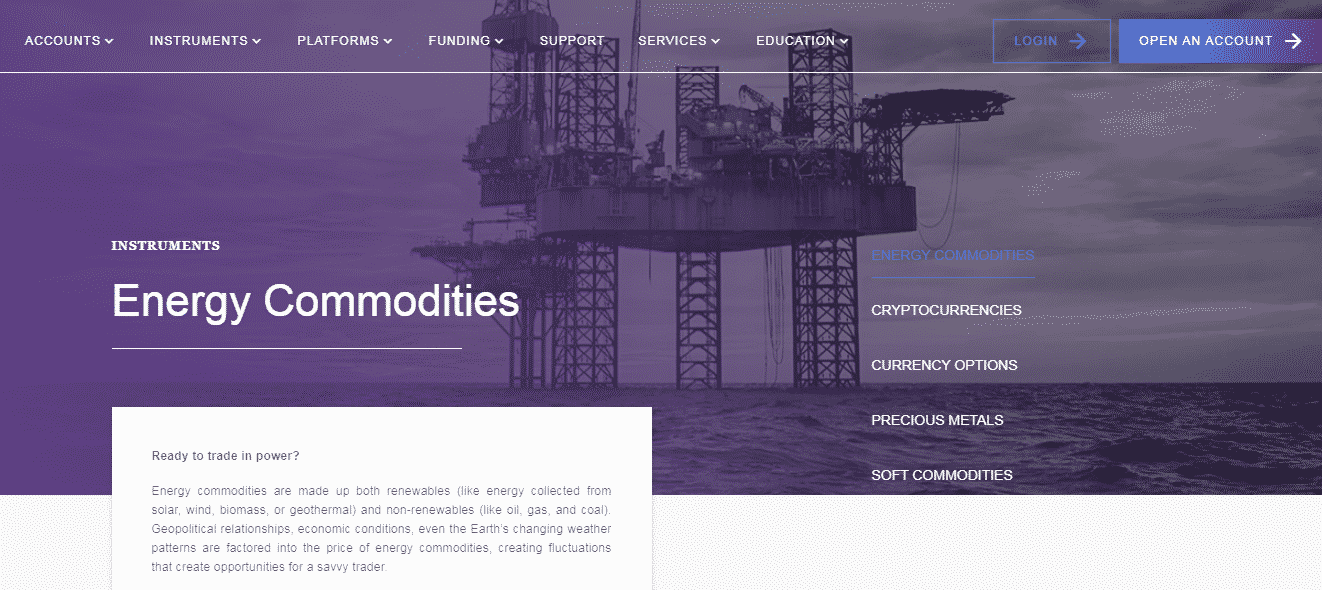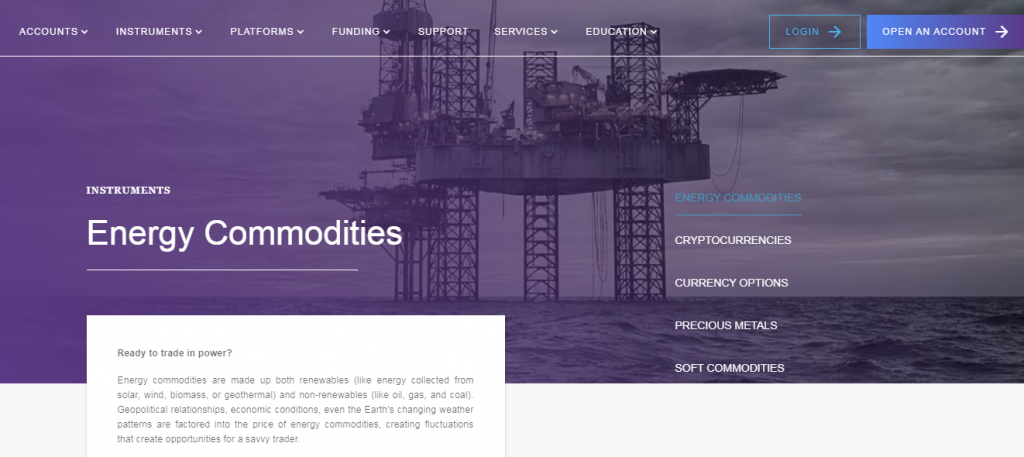 Cryptocurrencies
AnalystQ offers several tools and services to trade in the cryptocurrency sector so that the traders can earn profit by using the high leverage opportunities that are offered by this broker. Using this trading platform, the trader needs not to own the cryptocurrency for trading; this feature makes it easy for the beginners and allows them to trade even if the market is volatile. It also offers several learning tools, Safe trading, and smarter services offered in the cryptocurrency trading world.
Currency Options
The trader can trade in forex markets with the help of several forex trading tools that are offered by the platform. They can also attend the Forex webinars and can also browse through a wide range of educational resources before they start trading with currency options or by using Forex trading. Besides, AnalystQ provides a wide range of tailored services to help forex traders. One of the best sought after financial markets is the Forex currency market, which is known as currency options because of its vast opportunities.

Some of the available trading pairs on AnalystQ are –

BTC/USDT
BTC/EUR
BTC/JPY
BTC/GBP
BTC/CHF
BTC/ETH
ETH/USDT
ETH/GBP
ETH/EUR
ETH/JPY
ETH/CHF
Precious Metals
The market will always be bullish in case if you want to trade in precious metals. Some of the precious metals like Gold, Silver, Platinum, and Palladium will always be profitable. Since the value of these metals will keep on rising even though there are several economic fluctuations. Trading on precious metals is always a wise move, and it is the most sought after metals as their tendency goes up in value anytime, and this makes strong insurance even in the worst fluctuation or in crisis times.

Traders can trade on the below metals offered by AnalystQ –

Gold
Silver
Platinum
Palladium
Soft Commodities
Soft commodities such as coffee, sugar, cocoa, cotton, and soya beans have an everlasting demand, and trading in the soft commodities market is highly profitable and worth the investment. AnalystQ trading platform provides several risk-free trading opportunities in the soft commodities market and even though it entails risk, it offers a good profit when it is traded smartly.
What are the benefits of trading Cryptocurrencies?
A cryptocurrency is a form of digital currency that is now recognized as a form of exchange in digital platforms. Cryptocurrencies have introduced a more secure and a new form of trading which is described as Cryptocurrency trading. There are several popular and well-known crypto trading platforms available in the market; one of the most reliable trading platforms for trading cryptocurrency is AnalystQ. But, the trader needs to choose the right platform as they are about to invest their hard-earned money. One of the most important reasons why there is an increase in popularity for cryptocurrency trading is it offers several benefits. Let us see few benefits of trading Cryptocurrencies –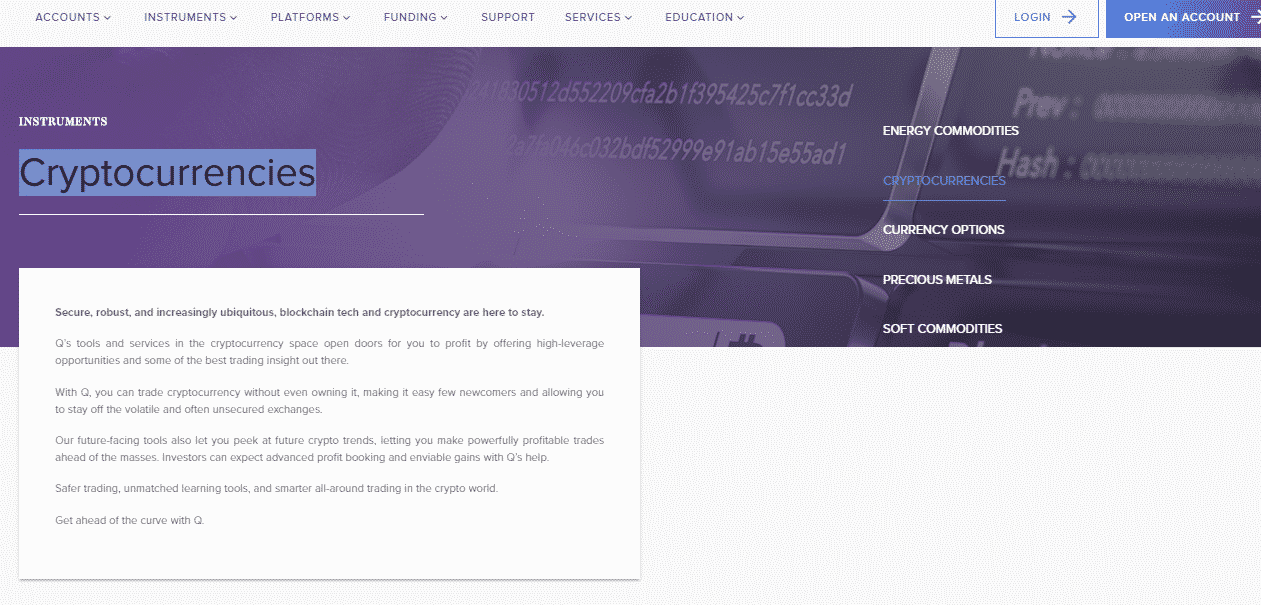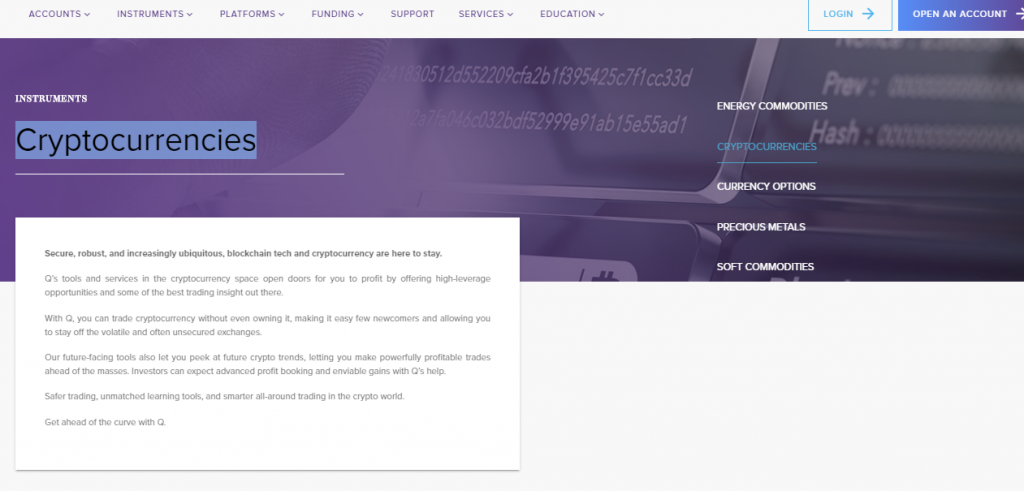 The traditional trading system, which is often practiced, involved the brokers in charging a huge amount as commission, which depended on the transaction. Also, trading online has minimized or is no interference of third parties such as the bank to charge third party expenses on the transaction.
The traditional procedures are used for fixed expenses for maintaining the accounts, fund transfer cost, signing of cheques, and several other expenses. These transaction charges take away a major part of the earnings when they are using online trading. In cryptocurrency online trading, there is no involvement of transaction charges.
Trading in cryptocurrencies offers access to international currencies where the exchanges in various countries are involved. Moreover, the introduction of the cryptocurrencies has brought down the barriers of international trade, and it further made global transfers much simpler.
As we all know, the cryptocurrency is dependent on blockchain technology, which makes the transactions legitimate. The most secured technology that processes the transaction and makes the safest exchanges is the blockchain technology. Further, this blockchain technology allows transaction requests, double checks, and warns to make more secure exchanges.
Transparency is one of the most important criteria when the transaction takes place. One of the most advantageous features offered by the cryptocurrency is, the transaction remains public always. It is very difficult to hack the data, and blockchain protects the data from the scammers.
Investor Relations
One of the communication lines between AnalystQ and its users is through investor relations, and this relationship is more important to the company. Below given are the ways they offer support to their account holders whenever it is necessary –
AnalystQ will regularly inform all the traders and investors about all possible trading opportunities, and there is risk irrespective of the trading interest or the status. When the markets fluctuate daily, it is their sole purpose to help the traders through the confusion so that they can trade confidently and decisively.
AnalystQ's investor relations work internally as well. It works hard to ensure that they are updated on-site and service changes, when there is an update, it is meant to make something better, easier, and more accessible for traders.
AnalystQ offers its traders feedback, and it tries to optimize its service for its customers and investors.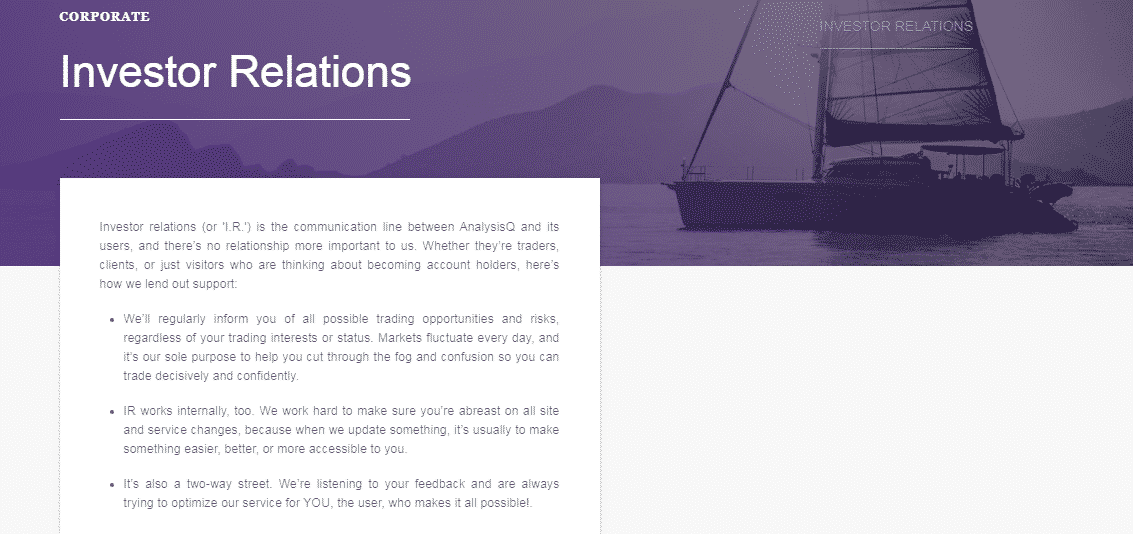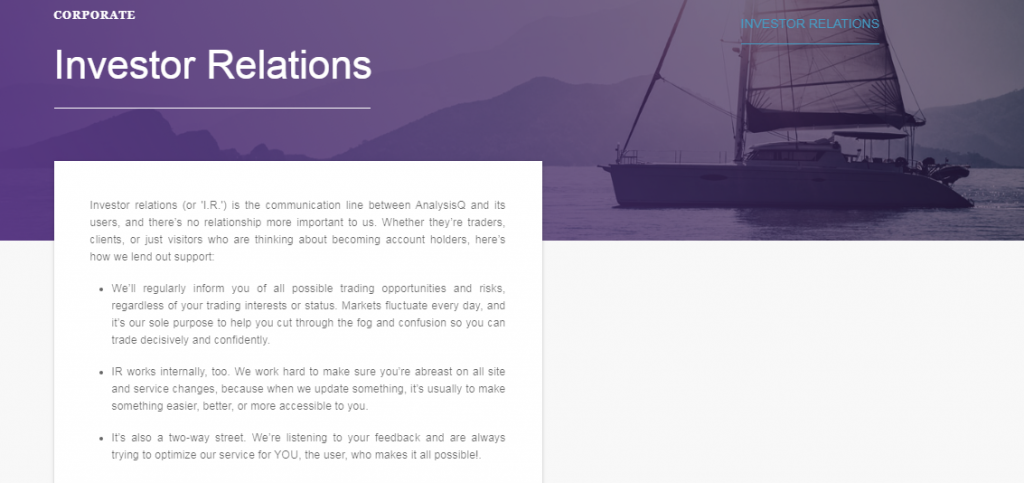 Education
AnalystQ uses one of the most well-known trading platforms, where trading is more than a profession. They provide educational resources to train the users and help them to acquire more knowledge in trading by offering specialized courses. The investors and traders can sign up on the platform for curated courses and attend webinars to gain more knowledge in trading.
Q Academy
AnalystQ offers Q Academy, where the traders can access several educational materials by logging in to the account to acquaint themselves with trading topics.
Educational courses
The trader should have more knowledge and expertise to trade in Forex, currencies, cryptocurrencies, commodities, and various markets. They need to have thorough knowledge before they invest their money in the trading market. AnalystQ offers education courses that cover several topics that are beneficial for both new and experienced traders. They offer a course curriculum, and if you are a registered trader, you can also find several informative articles on investment and trading where that platform shares with its users.
Online trading courses
If you are a beginner new to online trading, AnalystQ offers flexible and tailor-made trading courses which are available online on the platform. They can learn at their own pace and study some of the important aspects of online trading before they start investing in trading. It also provides several trading strategies in some markets, including stocks, cryptocurrencies, indices, currency options, and several more. It also offers several educational resources and webinar sessions hosted by some of the leading financial analysts and high volume trading experts of the trading industry.
Personal trading courses
If you are looking to become a trading expert, one of the best alternatives provided by AnalystQ trading platform is a personalized training from a personal trading coach. The traders can study from the trading industry experts, where they can build a strong portfolio. Also, they can get in-depth insights into the various trading strategies and proceed with trading. This is one of the most advantageous features offered by the AnalystQ trading platform with a personalized touch.
Economic calendar
AnalystQ offers an economic calendar that is widely used by the traders for monitoring market-moving events like monetary policy, decisions, and economic indicators. Some of the market events are announced or released in the report, which has a high impact on the financial markets. An economic calendar is a good resource that allows the traders to learn about several important economic information scheduled to be released. Few events include GDP, Payroll report, and the consumer price index.
Platforms offered by AnalystQ
MetaTrader 5
Metatrader 5 is considered a one-stop-solution for training. It also offers the tools and analysis which provide several advantages across various types of financial markets, starting from cryptocurrency to futures. Metatrader 5 is available on any device or any browser, and the users can immediately access the market through MetaTrader 5, which offers several free and paid opportunities.
Web trader
The web trader platform offered by AnalystQ makes trading online very easy. It offers a flexible and user-friendly interface that makes it easy for new traders to take part in active trading and invest their money in various markets. Webtrader can be accessed through any operating system or any device. Further, after registering with a web trader, the traders can get access to simple and powerful effective trading services. Webtrader is accessible through any device which has a stable internet connection. When the user signs up on the trading platform, they can access every feature offered by the platform.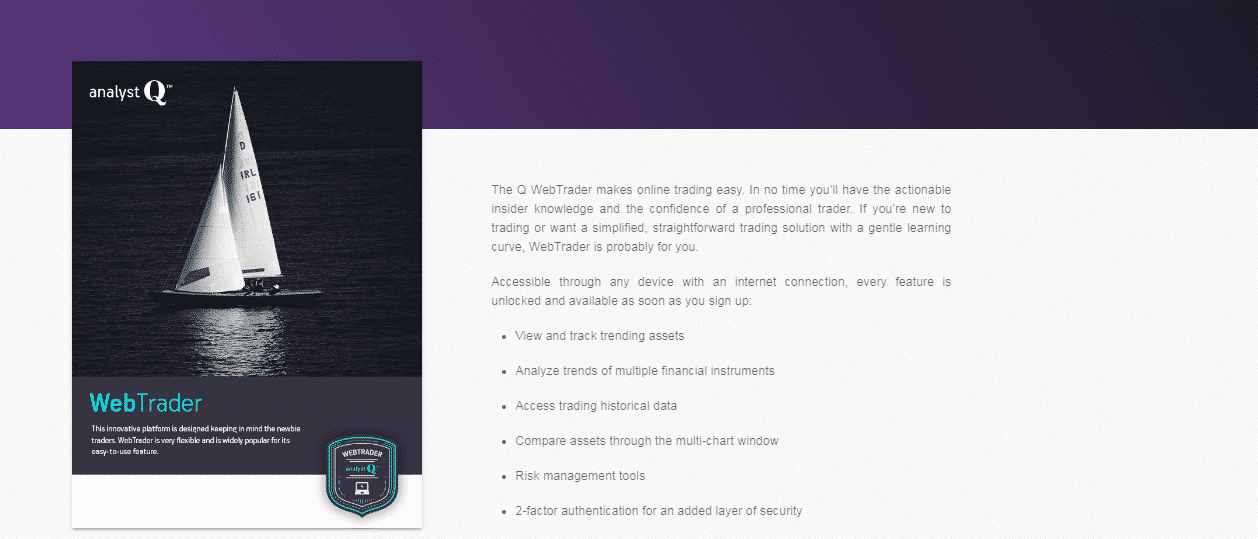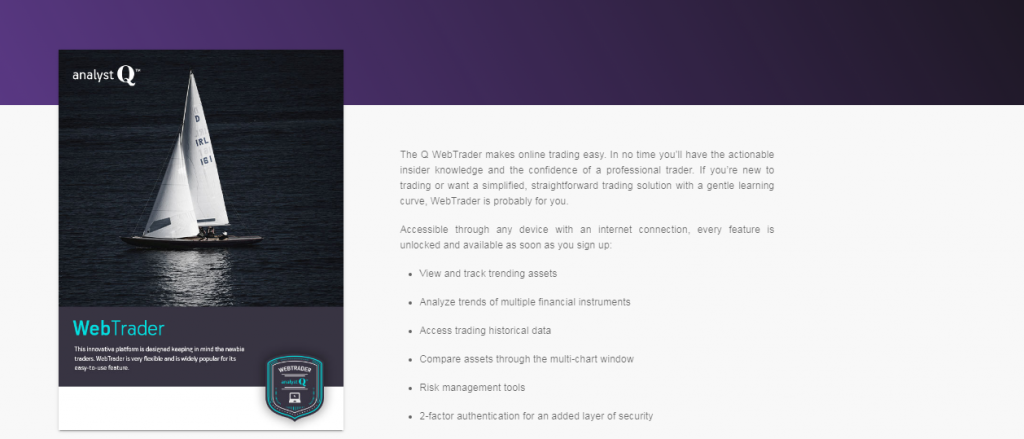 iPhone trading app
Using the AnalystQ iPhone trading app helps the trader conveniently execute a trade anywhere and anytime so that the trader never misses an opportunity to trade. Besides, it offers a responsive design and an intuitive layout, which will help the trader to start trading in no time. The trader can download and install the iOS trader app in their Apple device, and they can use the intuitive interface for trading. The responsive design and the layout offered by the app is a convenient way for the trader to trade at any hour during the day. The trader can execute trades in commodities, or cryptocurrencies throughout the day from their iPhone and stay ahead of the market.
Android Trading app

AnalystQ Android trading app was designed to help the traders to trade intelligently and quickly easily. They can monitor the real-time data, track their trades, and get instant push notifications to update the moving trends.
As per our review, the platform interface is compatible with its operating systems. The trader can download and install the Android trading app in their Android phone or tablet to conduct trading in various assets.
The android trading app has a smooth and sleek interface, which helps the trader to trade easily. It enables real-time analysis of the market data, and it also helps to track the trading and notifies the user about the latest market trends. The Android trading app offers 24×7 customer support to its users.
Tablet trading app

If you like to trade by using a tablet, then the tablet trading app provides all the necessary features and functionalities for you to trade. It provides quick access to the markets, and it also enables trading in real-time live prices. The trader can easily connect to trading with just a few clicks by using the tablet trading app.
The notification of live prices and the real-time market trend assessments offered by the tablet trading app help traders make the right trading decisions at the right time. This app offers excellent and dedicated customer support 24×7.
Offering real-time market data and live prices helps the traders know about the pulse of the market and offers last-minute updates about the market conditions, which help the trader make informed decisions to capitalize on them.
Services
AnalystQ trading platform offers a wide range of services thereby offering personal managers and dedicated sales traders to the registered users on the platform. It makes trading very easy and successful by helping registered users by providing them with dedicated sales traders, personal relationship managers, in-house analysts, and personal training courses.
Personal relationship managers
This platform's personal relationship manager helps the traders navigate through the problems in trading with ease. The traders can consult with the well trained and experienced personal relationship managers about market volatility and also making profits. They are available 24×7 through email, live chat, phone, and also through personal meetings.
Dedicated sales traders
AnalystQ understands the need for active trading in the precise moment, and hence this platform offers a dedicated sales trader to help the traders with the technicalities of trading. The sales trader will help the traders and guide them through the crypto funding, risks, market volatility, and several other aspects of the trading and investment process. This platform also offers a range of sales trader options, helping the traders make more successful and profitable trades. The sales traders have several years of analytical experience and help the traders quickly achieve positive results with fewer problems than learning on their own and exploring by themselves.


In-house analyst
The in-house analysts offered by the AnalystQ trading platform offer great help to the traders, and they offer precise insights into the market trends and the risk involved. They also offer streamlined assistance, which helps the traders avoid trading traps in the market and ensures the trader executes the trades and earns maximum profits. Using the in-house analysts offered by the AnalystQ trading platform, the traders are offered insights that can predict future trends in the markets.
Personal trading courses
AnalystQ offers stock trading courses so that the trader can learn about the basic and advanced strategies for trading. The traders can make use of the personal training courses that are offered by the platform, and they can specialize and learn about various trading strategies. By using these courses, the trader can get more knowledge about trading and make use of this knowledge when trading.
Customer service
AnalystQ offers a professional and dedicated customer service to guide the traders. They are ready to serve the customers if they have any problems with regards to trading they can be reached 24×7. AnalystQ trading platform offers several trading tips from leading experts from the trading industry to help the traders. And it also offers educational courses to help the traders grow, learn, and help them get acquainted with the trading platform. Also, it offers multilingual customer support which is available 24×7 through online chat, or phone.
Email support
The customer support offered by the AnalystQ trading platform is very professional and dedicated. The traders who might require customer service agents' service can be reached through email, phone, WhatsApp, Telegrams app, and live chat.
WhatsApp Support
As we are all aware, WhatsApp has more than 1.5 billion users in several countries, which makes it the most popular and instant messaging app globally, with an end to end encryption and offering applications for both mobile and desktop. WhatsApp is considered as easy to use and the most secure way of communicating with other people. AnalystQ's customer service offers its services securely and directly through WhatsApp as per the trader's convenience.
Telegram Support
Telegram is considered as a cloud-based messaging app just like WhatsApp, which offers safe, open, private, and secure qualities. Currently, AnalystQ offers its complete trading services, which include KYC document upload done through telegram, which is secure and offers seamless service for its customers.
Phone Support
AnalystQ customer service offers easy and efficient phone support for its customers. If the trader would like to speak to a live agent through phone, they can be reached immediately anytime during the day.


Funding
One of the most important features of trading is investing their capital in stocks. If the trader does not have the required funds in their bank account, then trading would not be possible. AnalystQ takes care of this issue when the traders do not have enough funds to start trading in the market. AnalystQ offers loans at an affordable rate of interest to the traders to fund their trading accounts to start trading.
Crypto Funding Basics
AnalystQ offers leveraged crypto funding for its traders. The experts at AnalystQ claims that traders can get more rewards if they implement the monetary leverage of AnalystQ along with their trading capital. One of the most advantageous features is that leveraged cryptocurrency options offer great stability against the cryptocurrency market's volatility. Besides, crypto funding of AnalystQ comes with the opportunities for improving the trader's position when you are purchasing the cryptocurrencies at a reduced price when it has been sold out at the current price.


Margin and Leveraged Loans
Trading in the cryptocurrency and commodity markets will be a dream to the trader if they do not have any capital or asset to trade. This is one of the reasons why AnalystQ provides margin loans and leveraged loans to their registered users, which helps them to start trading in cryptocurrencies, commodities, and forex markets.
Margin Loans
The traders can secure a lucrative and risk-free margin loan from this broker. The amount of margin loan is very secured against the trader's securities, so there is a minimal risk of loss. Margin loan does not have an annual fee, non-use fee, closing cost, and a setup cost.
Leveraged Loans
Quite often, traders need to face low capital, risky debts, and other troubles that will hinder their trading activities. AnalystQ offers a leveraged loan, which is considered as an excellent option for debit management, purchasing stocks, and also stabilizing the balance sheet. Further, the leveraged loans offered by AnalystQ are very beneficial for the traders who do not have a sufficient credit score, and they are not eligible for regular bank loans. The leveraged loans come with higher interest rates than margin loans. Hence, a leveraged loan has a price flex, which implies that the terms and conditions would be subject to variation during the loan period.
Wrap up
To conclude, we can say that AnalystQ is one of the most reliable trading platforms that provide investment and trading services by offering a wide range of 16,000 assets for its traders. Moreover, it serves its investors globally by offering profitable and unique trading opportunities. It also offers broader avenues in trading markets such as cryptocurrencies, foreign exchange, commodities, and several more. Also, it provides loans to traders at reasonable interest rates. We can say that AnalystQ is the best choice for traders who are interested in taking their trading activities to the next level. The customers of this platform get unlimited access to the educational materials, trading courses, webinars, trading strategies, and trading insights from the experts.
FAQ's
1. Does AnalystQ charge any inactivity fee?
Ans. AnalystQ is one of the most popular and well-known brokers, which was founded in February 2020. This platform offers a good user interface that is very responsive. AnalystQ offers an easy to use interface, and it is designed for speed, and it charges $36 as an inactivity fee.
2. Is the AnalystQ trading platform legit?
Ans. As per our review, we can say that the AnalystQ trading platform is legitimate, and the brokers who are associated with the platform are reliable. This platform maintains strict transparency, and it is highly secured. However, this platform does not hold a license or the authority of Dominica regulates it.
3. Does AnalystQ offer good customer support services?
Ans. Yes, AnalystQ offers a dedicated and professional customer support service team who are available 24×7 through WhatsApp, email, telegram, and phone. The customer support executives offer quick solutions and prompt response.
4. What are the operating systems that are compatible with AnalystQ?
Ans. AnalystQ trading platform is compatible with IOS, Android, and Windows. It can be accessed through various devices in the form of the iPhone trading app, Android trading app, MetaTrader 5, web trader platform, and tablet trading app, which is very beneficial for the trader.