Tron recently announced its partnership with Cex.io, which is a London-based crypto currency exchange and provides variety of tools for the mainstream coins. Some of the pairs included are: TRX/USD, TRX/EUR, TRX/BTC.
Price Analysis of TRON on 10th July 2019
TRON is currently trading at $0.0334 at 07:23 UTC as on 10th July 2019. The other essentials for market positioning are calculated as below:
Return of Investment: 1539.60%
Market Ranking: 10
24 Hour Volume: 764,935,032 USD
Market Cap Value: 2,242,662,293 USD
Total supply/ Circulating Supply: 99,281,283,754 TRX/ 66,682,072,191 TRX
7 Day high/ low: 0.035523 USD/ 0.031087 USD
Comparison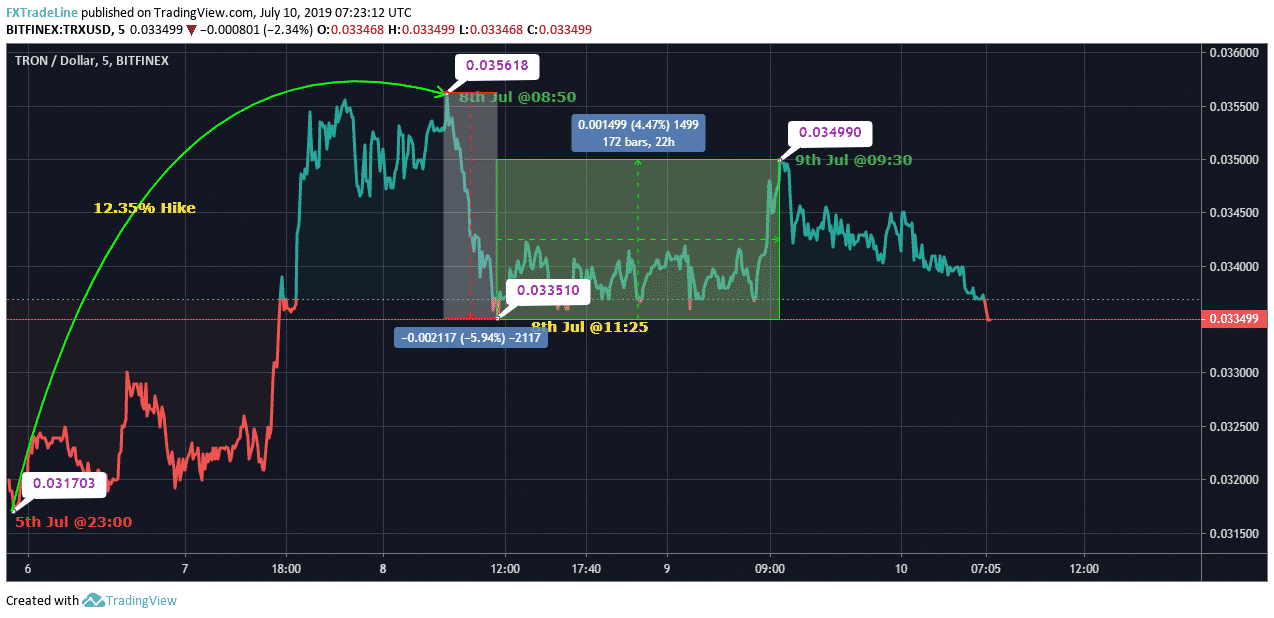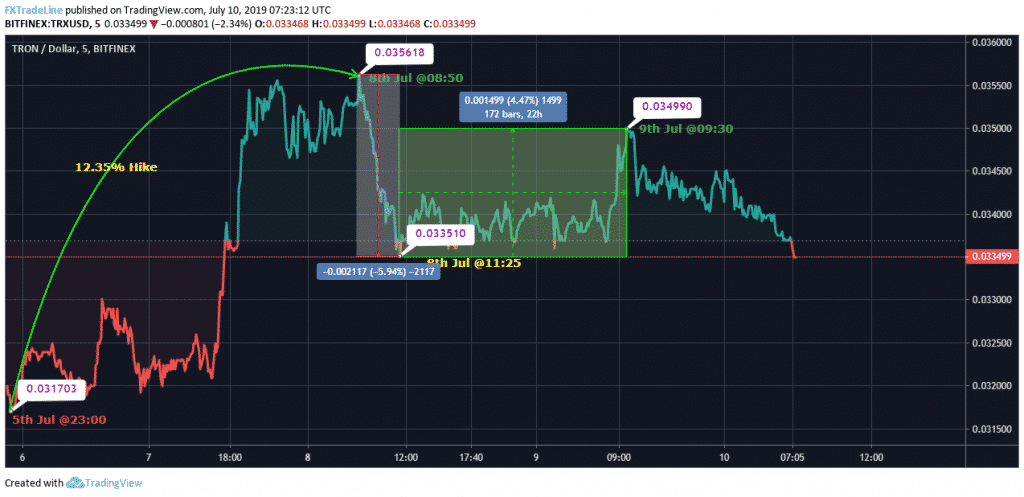 In the past 5 days, the lowest was initially seen on 5th July at 23:00 UTC, with a trading value of $0.0317. In the upcoming days, the coin gained the momentum and was surging with the highest in the said time frame seen on 8th July at 08:50 UTC, trading at $0.0356. The value of the coin on the same day was dropped by 5.94% at 11:25 UTC. However, the value was seen accelerating again by 4.47% with another peak seen yesterday at 09:30 UTC, when the coin was trading at $0.03499.
The current value is dropped by 4.28% from then.
Prediction and Conclusion
After some ups and downs, TRON is now trading in the bullish zone which means quite a profitable market for the investors. With new partnerships and announcements, we might see some more up surge in the price of the coin soon. Tron without any doubt has acquired a lot of attention in the market. And why not: The CEO himself has created that interactive base on twitter.
By end of 2019, we might see Tron trading at $0.05, if the trend continues to move in the bulls' trend.