Cryptocurrencies now hold power to transform the world, but a few of them are creating their world. Yes, we are talking about Decentaland, which allows users to venture into the metaverse. Virtual business, work from home, and another virtual world-related progress of COVID-19 showed the future of different businesses and possibilities of virtual work. This not only spiked speculations around Metaverse, but in literal terms, helped Decentaland explode in terms of valuation gains.
Decentraland or MANA is now worth close to USD 4.2 billion, with approximately 80% of MANA tokens in market circulation. Ranked 31st in terms of its market capitalization and the leader of metaverse related tokens which also includes SANDBOX and AXIE. While others are also growing, MANA has outperformed its peers. As a token, MANA is not only used for buying LAND on the Decentraland metaverse but is also a governance token for the Decentraland network. LAND assets on Decentraland are NFTs that were broken into small parcels of lands. To buy one piece of land that spans over 256 square meters, one needs to have 1000 MANA tokens. Metaverse has a total of 90,601 LAND parcels, out of which a majority have been sold out. As these LAND parcels become scarce, the value of the MANA token is set to explode.
MANA Price Analysis
MANA token falls by 55% from its sustainable peak level of $5.2, and even at $2.3, it seems like a worthwhile project to participate in. MANA not only offered a growth trajectory of close to 2000% since its launch at Binance in January 2021, and the prospect of MANA remained under wraps from the beginning of 2018 to mid-2021. Coincidentally, MANA hit a fresh high when Facebook renamed its parent company to MANA and announced their metaverse plans.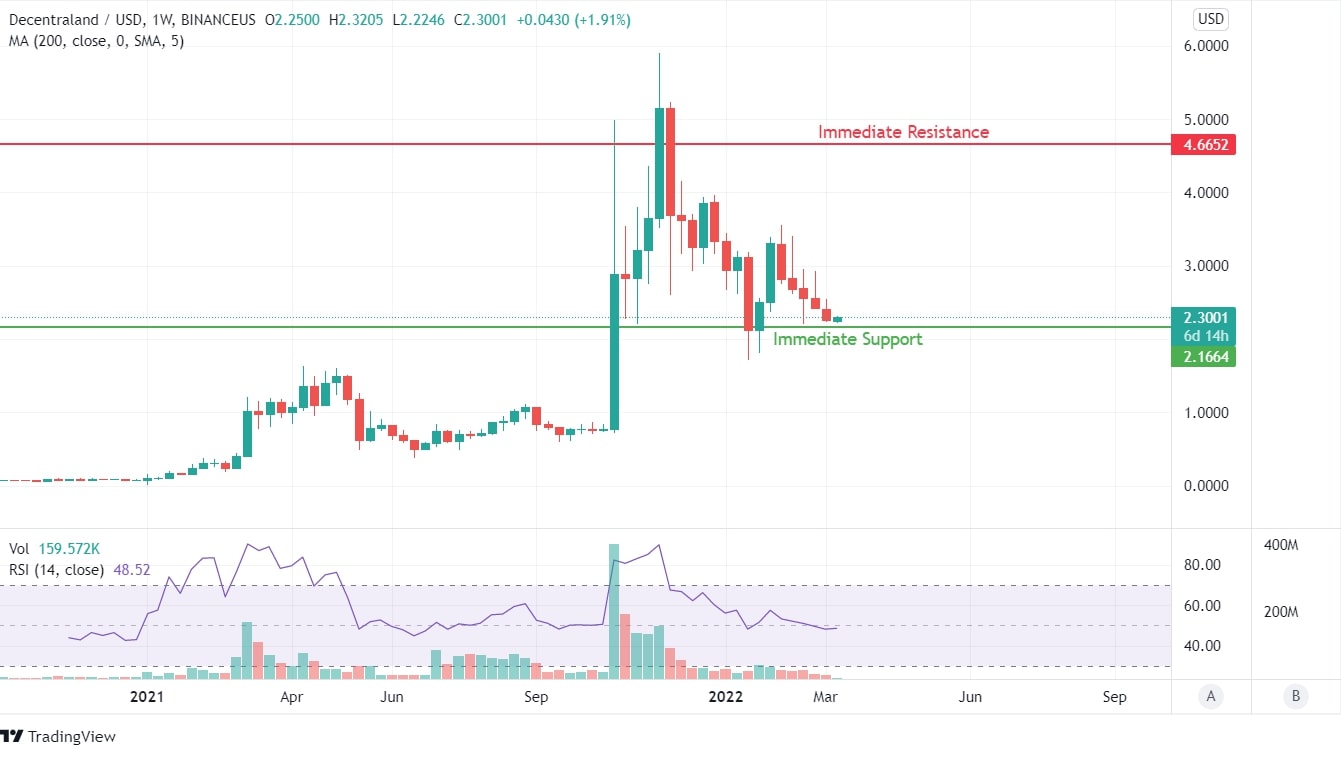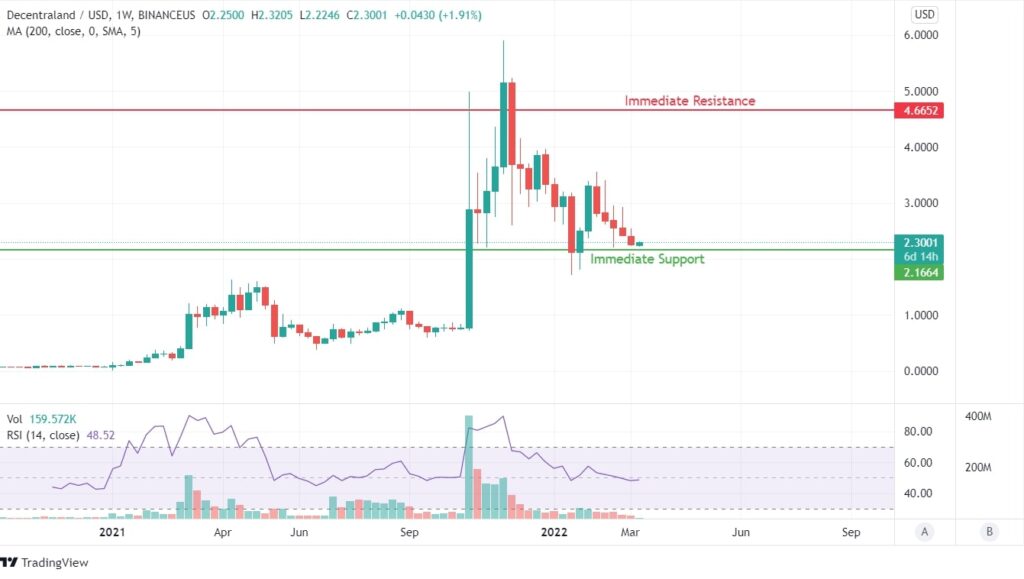 MANA seems to have exploded around the same time other cryptocurrencies were hitting lifetime high values. From a peak of $5 to the middle levels of $2.3, MANA has surely had its ups and downs, but the ups on the virtual reality token seem to be more aggressive and of linear nature as compared to the downside. $1.75 seems to incite buyer sentiment despite the buying trend succumbing quickly. However, click here to know more about the future potential of the MANA token before entering into the trade. 
The price trend seems to be cyclic, with a consolidation phase after each profit booking followed by a sudden rise in demand. While the price trend continues to be rampant, RSI has remained neutral over the weekly price trends.
MANA can turn bullish only after crossing the $3 mark, but before it can do so, the immediate support level of $2.2 is threatened. RSI on daily charts is trading close to the 40s, and an incline in this curve could bring a positive change in MANA price momentum.